Wiki Renovation!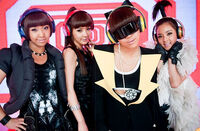 This Wiki is currently going under mass-renovation in order to upgrade the quality of the site's content and presentation. If you would like to provide any feedback or suggestions, please contact admin Lenhi. I hope you enjoy the new and improved 2NE1 Wiki.
Lollipop
Single information
Genre
K-pop, electro house, bubblegum pop
Album
2NE1
Released
March 29, 2009
Length
3:13
Label
YG Entertainment
Writer(s)
Teddy Park
Producer(s)
Teddy Park
Single Chronology
Lollipop is a song performed by 2NE1 and Big Bang. It was released to promote a LG Cyon cellphone. The music video was released on March 2009.
Section heading
Write the first section of your page here.
Section heading
Write the second section of your page here.
Ad blocker interference detected!
Wikia is a free-to-use site that makes money from advertising. We have a modified experience for viewers using ad blockers

Wikia is not accessible if you've made further modifications. Remove the custom ad blocker rule(s) and the page will load as expected.