Wiki Renovation!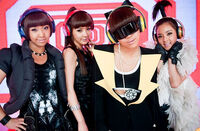 This Wiki is currently going under mass-renovation in order to upgrade the quality of the site's content and presentation. If you would like to provide any feedback or suggestions, please contact admin Lenhi. I hope you enjoy the new and improved 2NE1 Wiki.
It Hurts (Slow)


Single information
Genre
Pop, R&B
Album
To Anyone
Released
October 31, 2010
Length
4:16
Label
YG Entertainment
Writer(s)
Kim Byunghoon, Sunwoo Jungah
Producer(s)
Yang Hyun Suk, Teddy Park, e.knock, Sunwoo Jungah, Kim Byunghoon
Single Chronology
"It Hurts (Slow)" is a song by South Korean girl group 2NE1's album To Anyone. The song was produced by e.knock and Sunwoo Jungah. The song was released as the seventh single from the album. It was first performed on October 31, 2010, with a music video releasing later that night. The song was praised highly for its unique sound.
The song also serves as the B-side to the group's Japanese debut single, "Go Away".
Background
The song was produced by e.knock and Sunwoo Jungah. It is considered an R&B song.[1] At the album's release, it was praised as one of the best cuts from the album.
Critical Reception
"It Hurts (Slow)" was received well. Popular international website AllKpop.com said the song was "like a breath of fresh air," and praised its lack of autotune, differentiating it from the rest of To Anyone. Star News also praised the song for being different than the rest of the album and an entirely different pace.
Chart Performance
Weekly charts
Chart (2010)
Peak

position

South Korea (Gaon Chart)

4
Monthly Charts
Chart (2010)
Peak

position

South Korea (Gaon Chart)
6
Yearly Charts
Chart (2010)
Peak

position

South Korea (Gaon Chart)
30
South Korea Downloads Chart (Gaon Chart)
62
South Korea Streaming Chart (Gaon Chart)
72
Music Video
The music video was directed by Kim Hye-jeong, and starred model Lee Su-hyeok. The video was set on Dara and had a Gothic dark theme, due to its release on Halloween night. It shows the girls singing on top of a roof, with leaves falling down and mist everywhere. It also shows scenes with Dara in her house, brushing her hair, sitting in front of a dining table with a ruined cake on top. As the bridge begins, Dara wishes on a candle that her past love would come back. Her wish came true and he appears. They hug each other but only for a matter of time, as the candle is blown off again. The video ends with Dara shedding tears and just sitting alone in front of the ruined cake.
Credits
   Composing: e.knock, Sunwoo Jungah
Videos
References
Ad blocker interference detected!
Wikia is a free-to-use site that makes money from advertising. We have a modified experience for viewers using ad blockers

Wikia is not accessible if you've made further modifications. Remove the custom ad blocker rule(s) and the page will load as expected.