Wiki Renovation!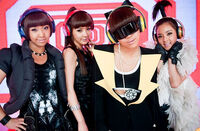 This Wiki is currently going under mass-renovation in order to upgrade the quality of the site's content and presentation. If you would like to provide any feedback or suggestions, please contact admin Lenhi. I hope you enjoy the new and improved 2NE1 Wiki.
"Falling in Love" is a song by South Korean girl group 2NE1. Its music video was released on July 7, 2013, and garnered more than one million views in less than a day.[1] The single was officially released on July 8, 2013. The song incorporates elements of reggae, electronic and hip hop.
A Japanese version of "Falling in Love" was released on the group's Japanese edition of their 2nd Korean studio album, Crush.
"Falling in Love" was once again re-released by YGEX for the 2NE1 Best Collection -Korea Edition- compilation album.
References
Ad blocker interference detected!
Wikia is a free-to-use site that makes money from advertising. We have a modified experience for viewers using ad blockers

Wikia is not accessible if you've made further modifications. Remove the custom ad blocker rule(s) and the page will load as expected.